Hey guys!
I'm really excited to start this blog about my favorite topic, CHOCOLATE! If you love chocolate too, maybe you just nibble on some every once in a while, or you've just happened to wander here… WELCOME!
I don't like the term "chocolate snob," so I will be talking about chocolate I've tried from various places, from grocery stores to local chocolate shops or whatever I've ordered online. You might recognize the majority of the chocolates I will be talking about 🙂 Otherwise, I hope that this blog will pique your interest in trying something new.
I'm a regular consumer. I'm not a chocolate specialist. If you're looking for a place where there's information about the "notes" or fancy schmancy terms in regards to chocolate… you won't find it here.
Also, let's keep in mind that I live in the United States. Maybe you're a well traveled individual and have tried chocolate from all around the world. But whatever geographical area you live in, it will have its own unique selection (especially in regards to local chocolate shops). The chocolates I've eaten I will share on here because I have had access to them.
Of course if you, dear readers, have any suggestions on what chocolate I could try and hopefully get my hands on, please let me know! I gladly welcome recommendations and your own thoughts on what chocolates you like! There's always something new to try!
I'm going to start off  with Toblerone!
I love wandering into World Market! It's a fun store with a good chocolate selection and decent pricing. Look them up online if you haven't been there before! I first went to a World Market in Richmond, Virginia. My mother pointed out Toblerone to me since she had eaten it before. On the back of the box, it says it is a Swiss chocolate, though distributed from New Jersey (my home state!!!). The first Toblerone I had tried was the original, milk chocolate with honey and almond nougat.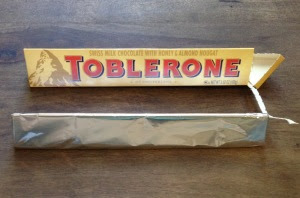 I saw that World Market also has this Toblerone in a smaller size. Perfect for throwing into a handbag when you're on-the-go! 😉
I tend to prefer milk chocolate over dark chocolate, so I fell in love with the milk chocolate and nougat Toblerone right away! Back when I first tried Toblerone, I wasn't in love with caramel or chewy things being in my chocolate. But there was something about this nougat that I found to be addicting.
It wasn't until recently that I discovered Toblerone also had a bar of milk chocolate with salted almonds (it's in the blue box). It's pretty much the original Toblerone with almond pieces thrown in. The extra crunchiness is very nice!
I like how unique the Toblerone bar is in how you break off a piece in the form of a little triangle. Can I also say it's nifty that Toblerone stamped their name into those triangular chocolate pieces? You can barely see it in my pic, but it's there.
I don't know if the letters are supposed to help you keep track of how much of the bar you've eaten, but sometimes I'd just go through the whole thing looking at each letter and then eating it 🙂